Most Epic days at Goethe Institut
Barcamp Ethiopia 2016 is a platform to create dialogues in many environmental, cultural, and economical important shifts we have as a community and individually. As opposed to regular conferences, a Barcamp is organized and held not by organizations or a company, but by an open community of interested individuals, who gather around common topics to exchange ideas and experiences in an informal setting. Barcamp has no pre-structured program. The actual topics for the conference-sessions and discussions are collected by everyone on the morning of the first conference day. At any time the agenda can be changed and every participant is encouraged to actively contribute to the sessions.
BAR = "Beyond All Recognition". More than 500 Barcamps have been held all over the world with different thematic focus, also in several African countries. Every Barcamp is individual.
Barcamp Ethiopia was successfully held for the fifth time on June 17th and 18th in Addis Ababa, Ethiopia.  It was held under the theme "Share your uniqueness" and indeed uniqueness was shared. In a very fun and interactive two days event beliefs, passion, ideas and talents were shared among the vibrant participants at Goethe Institut.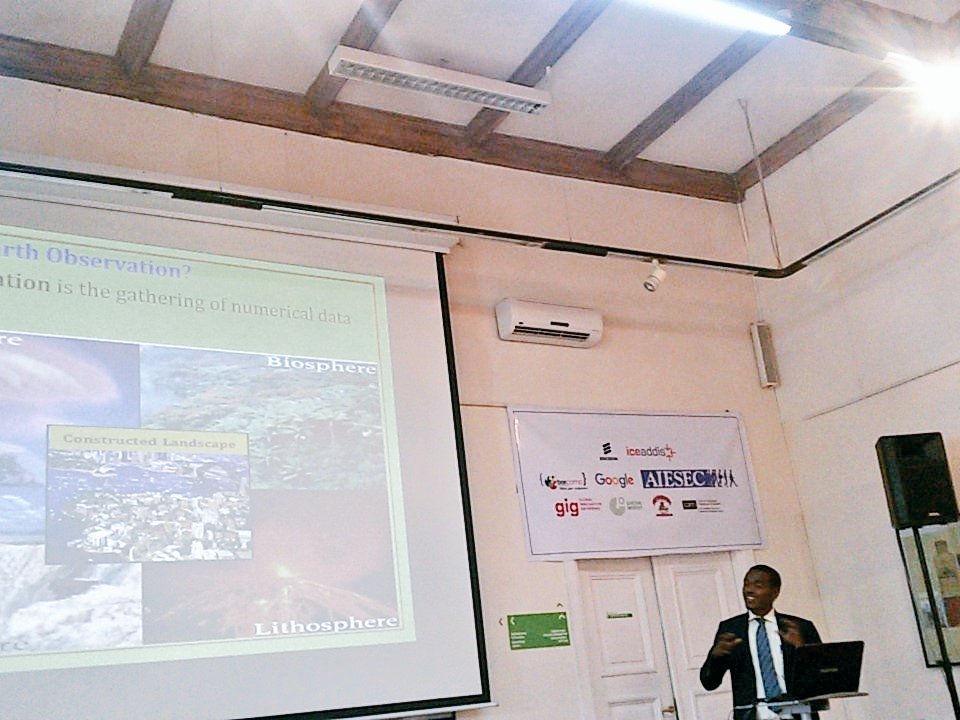 The event was officially opened after a brief explanation of the scheduled program and about what Barcamp is for the first timers. There were four sessions per an hour in the rooms named after Amharic letters; 'hwa', 'Ko', 'Che' and 'Dju'. The audiences as well as presenters were very enthusiastic when discussing the agendas in each room. There were a total of one hundred sixty Barcampers the first day. The topics of discussions were,
Social entrepreneurship, social innovation, CSR & tech innovation in Africa
Who needs a boyfriend?
Global money week; U can't miss it all
Integrating Agriculture with Energy; Biosun Farm
Game Zone; Challenge& Reward
AI- Artificial Intelligence
Biomass energy and Bamboo
Gursha; Till we teleport
Ethiopian Event Management; Amharic/English
Free online education and online work; eqi.io
Abyssinia ballooning ; How Ethiopia looks from the sky
Christine yohannes; Humanity
Rami & Aron; You ask anything then we debate for 5 min
About "Africa's climate change forum"; dialogue
EAT NATURAL; Amharic/English
The most famous session this day was "Game zone" where room 'hwa' was full of players obliged to be creative to win the game.
In this year's Barcamp two hundred vibrant participants attended the second day after hearing and looking what went down the other day on Facebook, Twitter and all social Medias using the hashtag #bce16. The subjects of the sessions were,
Intro to quantum physics and its application
I want to make you rich! And I promise
The hopeful river project
Online media & the rise of digital media in Ethiopia
ToastMasters International; where leaders are made
How to sell a gorilla; Digital Marketing
Earth Observation
Professional software development; dialogue
Consciousness and its psychological manipulation by corporate apparatus
Rotary International; Voluntarism
Ethiopian Diaspora & Migration issues
AI-Artificial Intelligence; our current encounters with it
Diplomacy; Ethiopian relationships to the world (by diplomats)
Aron Simeneh + Mekbib; Photography workshop
A machine learning approach to hacking
BUSINESS TINDER; get business students for startups
Endeguena Muhi Abelton & Music Workshop/dialogue
Numbers and life
Lina Haileul; Baking & Vegetables
Managing with information
Social innovation for water; C. armies
FAILURE
yohannes; POEM READING
Volunteers from community development; M.H
"Toastmasters international" where room 'Ko' went applauding and laughing every minute with fun challenges that were faced by ingenious volunteers was the most famed room of all on June 17th.
"Barcamp was unlike any conference I've been to - it was youthful, vibrant, and truly led by the participants. I'll be going next year for sure" - Anna Chojnicka
" We are very proud on how far Barcamp has come to being the right platform for the youth to bring words to their uniqueness and explore ways to exercise and develop their potential. " - Hiwot Negash
Barcamp Ethiopia 2016 was sponsored by Saint George beer, Google, AIESEC, CIM, gig, Ericsson and organized in partnership with iceaddis and the Goethe Institut. The next Barcamp Ethiopia is intended to take place by the end of 2016 in Hawassa.